正文概述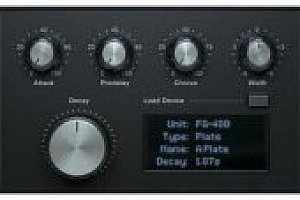 Reverb is perhaps the most fundamental effect in audio production. Over the past several decades several classic digital reverb units have become staples for professional mixing engineers, and VerbSuite Classics brings you ALL OF THEM.
FUSION IR TECHNOLOGY
VerbSuite Classics is a partnership with LiquidSonics, and uses proprietary FUSION IR processing to capture the evolving and modulating characteristics of the modeled hardware reverb tone. In blind comparisons, users could not differentiate between the real hardware reverb patch and the VerbSuite capture.
FG-480
This is a model of what many consider to be the industry's most standard reverb, and one that is still popular amongst top pros even today. This reverb has several programs that share a distinct and classic sound due to the unit's unique modulation characteristics, which help it cut through the mix.
FG-2016
First created in 1982, this American-made reverb was known for its realistic recreation of natural-sounding rooms. It's been a favorite of top engineers since its creation, and has been heard on countless hit records.
FG-250
This is a model of the first ever digital reverb, built in Germany. It's widely known as one of the best-sounding reverbs even to this day, despite having only 16k of memory! It has a thick tone that mixes into source material with ease.
FG-QRS
When we asked several top pros which reverb they insisted we include in VerbSuite Classics, this German-made unit from the early eighties made every list! It's incredibly transparent for a digital verb, and is known for having minimal digital artifacts. We love it on vocals but it's great on so many other sources as well.
FG-2000
This extremely rare Japanese-made reverb has been the favorite drum verb for many top pros. They have had mechanical issues and are very hard to find, so we were lucky to capture a unit in perfect condition. Not only amazing on drums, but fantastic on guitars, piano, and vocals!
FG-16X
This is a model of the famous microprocessor-controlled digital reverb from the early 80's.You can view more on ttded.com. It has a smooth and lush tone that is incredible on all types of source material, and one of its most famous uses is the drum sound on "In The Air Tonight" by Phil Collins.
FG-6000
This is a model of a modern Danish digital reverb powerhouse! This reverb has several programs that are incredibly realistic, smooth, and deep. Amazing for small and large spaces alike, you'll find an enormous amount of use for this incredible reverb!
FG-BM7
The BM7 reverb model is a free expansion for VerbSuite Classics. It's available directly from LiquidSonics using public-domain Bricasti M7 Fusion-IRs, which capture what many say is the best-sounding digital reverb in the history of audio production. Unlike several static impulse response packs taken from this famous unit, the VerbSuite Classics Fusion-IR expansion pack recreates the true tone and character of the unit's modulation.
FG-3000 & 3500 Expansion Pack
The FG-3000 and FG-3500 Expansion for VerbSuite Classics adds another two legendary digital reverb boxes to the Slate Digital arsenal including 40 new reverb patches that use LiquidSonics Fusion Capture technology.
The 3000 and 3500 are iconic studio effects that have appeared on too many hits to name. Their unique rooms, plates, halls, and special effects will help add incredible space, dimension, and excitement to your mixes!
FG-224 & 224XL Expansion Pack
The original 224 digital reverb is arguably one of the most legendary digital reverbs in history, gracing thousands of hit records mixed by some of the top engineers in the business. This new FG-224 and 224XL expansion pack for VerbSuite Classics features full Fusion Captures of both the original 224 and the even more acclaimed 224XL units, and it sounds absolutely incredible! These additional reverbs give VerbSuite Classics even more power and flexibility, and give you more creative tools to add width and depth in your mixes.
HAPPY NEW YEAR!
* No iLok Driver is required to run.
* Our release loads faster and uses less memory than original.
免责声明:
1、本站所有资源来源与网络,不提供任何技术支持和安装服务。请知晓!
2、本站仅提供学习的平台,所有资料均来自于网络,版权归原创者所有!
3、在本站下载的资源请在24小时内删除,仅提供学习测试,长期使用请购买正版!
4、资源使用后造成的一切后果,由用户自行承担,本站并不承担任何法律责任!
5、如发布的资源侵犯了您的合法权益,请提供相应的资质证明,发送到193386@qq.com,我们将于24小时内予以删除。
6、本站资源解压密码说明:如解压文件需要密码,请查看下载包内文本文件,复制相关密码。
智音派
»
数字混响效果器插件 – Slate Digital VerbSuite Classics v1.0.12.5 [WiN]